Spoiled Apples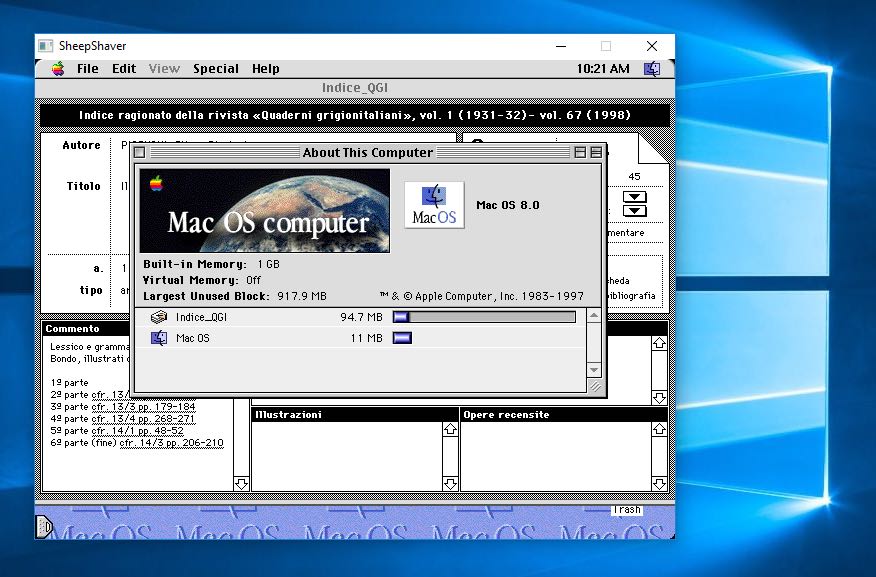 An application, programmed in HyperCard
and using XCMD and XFCN resources themself programmed in C,
running on a SheepShaver virtual machine under Windows.
Apples before Intel
This is a long journey, started in 1991, when Reto Kromer began emulating Z80 and 6502 computers on 680x0 architectures. Today the emulation of many 6502, 680x0 and PowerPC-based Apple computers and a few Macintosh clones on modern x86_64 architectures under Linux, macOS and Windows is a reality.
Documentation
For the benefit of the future generations, the source code will become freely available, as soon as the biggest legal issues are resolved. To publish the ROM images is indeed a problematic endeavour… We are working on a «fair use» solution for this factual abandonware, in order to make preservation of computer and media history possible. In the meantime the PDF of the current man page, which contains extensive additional information about the implementation, and the Change Log file are publicly available:
spoiledapples – Emulation of 6502, 680x0 and PowerPC-based Apple computers
Alpha Release
Our research partners can currently install and test an alpha release by running the following command in the Terminal:
brew install avpres/formulae/spoiledapples
The Homebrew formula has been successfully tested on x86_64 architectures running on the following operating systems:
Linux: Debian 10.1 and Debian 9.9; Ubuntu 18.04.2 LTS and 16.04.6 LTS; Slackware 14.2
Macintosh: macOS 10.14.5 and 10.13.6 (sorry, still untested on macOS 10.15 «Death Valley» ;-)
Windows 10: Subsystem for Linux running Debian 9.9 or Ubuntu 18.04.2 LTS
In addition, cross-compilation from Debian works well.
---
Note
The example in the illustration is taken from Indice ragionato della rivista Quaderni grigionitaliani 1931–1998.
---
2019–09–21